Walmart Introduces an At-Home Banquet Solution with "House Specialties of Famous Restaurants Nationwide"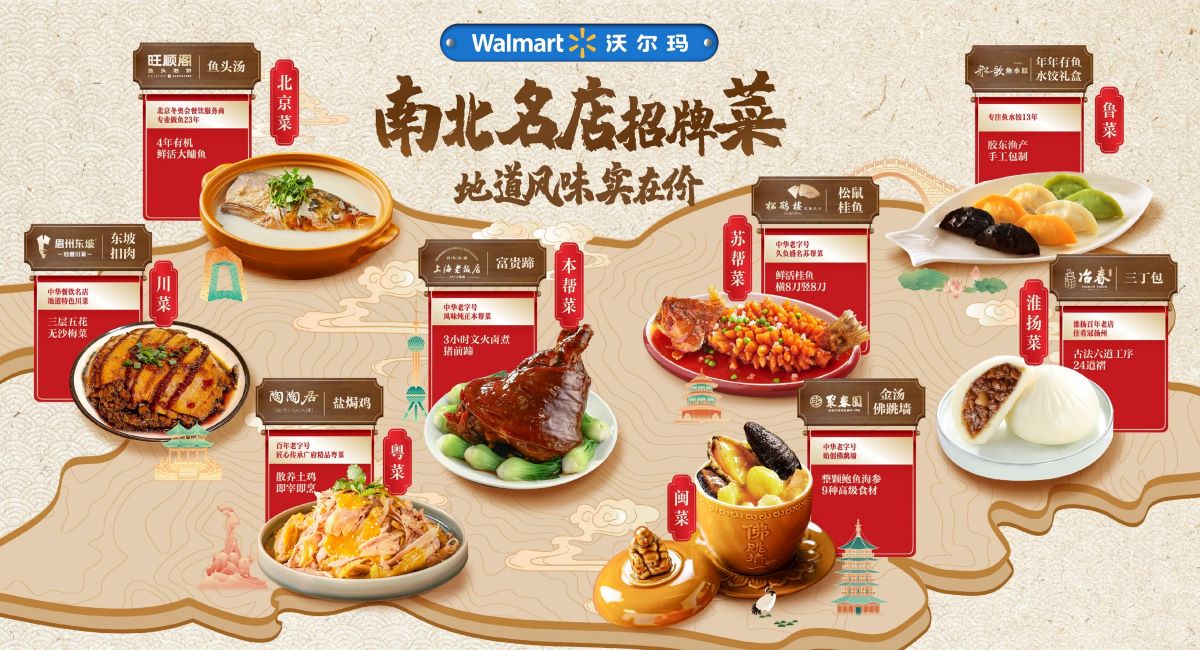 Walmart Hypermarkets have officially launched a new at-home banquet solution with House Specialties of Famous Restaurants Nationwide. Focused on the needs of urban family consumers, Walmart collaborated with famous restaurants to develop a new approach in the industry by making more than 70 authentic, delicious, inexpensive, high-quality and recognized dishes available to customers. Walmart, with its rich retail experience and efficient supply chain, has enabled 18 restaurants so far to quickly enter the broader consumer market and reach more consumers. This new initiative also injects energy into the real economy, just in time for the upcoming New Year's Day and Chinese New Year spending.
Zhu Jun, Senior Vice President and Chief Merchandising Officer of Walmart China, said, "Walmart views 'customer first' as the starting point of its strategy, and has constantly enhanced differentiation to introduce products of great value to customers. By working with famous restaurant brands, we can offer our customers a feast of signature dishes from famous restaurants across the country without leaving home. We have also developed a new approach in the industry, a new way of thinking and a model to boost the real economy. From cross-border eCommerce to offering House Specialties of Famous Restaurants Nationwide, Walmart continues to improve differentiation and the overall efficiency of its supply chain. This is to create value for customers so they can 'save money and live better'."

Collaborating with famous catering enterprises to offer an at-home banquet solution is a new approach for the industry.
Walmart believes that when customers prepare for family feasts and gatherings, they tend to pursue quality, authenticity and value, rather than just speed and convenience. Therefore, Walmart precisely positioned its product selection strategy and applied matrix development to seek real innovation and change. It partnered with 18 nationally renowned restaurants to introduce their house specialties to consumers and proposed the new concept of the at-home banquet solution. This challenges the prevailing perception of ready-to-cook food in the market.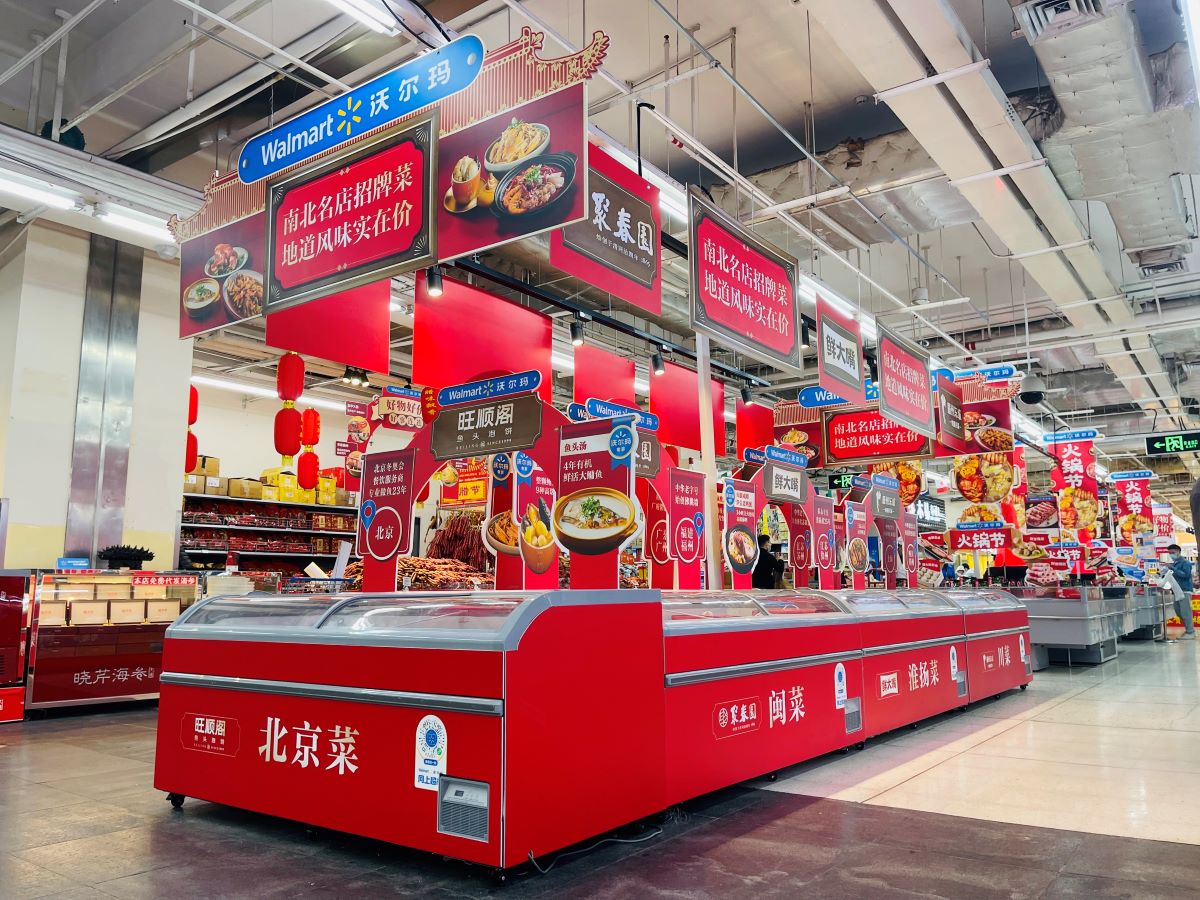 Walmart launched House Specialties of Famous Restaurants Nationwide offering an at-home banquet solution.
Dongpo braised pork from Meizhou Dongpo from Sichuan, fish head soup from Beijing's Wangshunge, braised pork feet from Shanghai Old Restaurant, Fotiaoqiang (Buddha Jumps over the Wall) from Juchun Garden from Fuzhou, salted baked chicken from Taotaoju from Guangzhou, sweet and sour mandarin fish from Suzhou's Songhelou, fish dumplings from Chuange from Qingdao, fresh meat buns from Yechun in Yangzhou. Walmart's whole at-home banquet solution includes the eight major cuisines in China and abroad, ranging from appetizers, soups, hot dishes and main dishes to desserts. Through Walmart's channels, more than 70 signature dishes are replicated and can be served on customers' own tables, with different dishes every day for seven days in a row.

Improved end-to-end performance offers high quality and value at the same time.
For customers to enjoy the dine-in experience at home, Walmart strives for high quality, good taste, and replicating the original taste. Walmart chooses to work with time-honored brands with local characteristics, as well as partners pursuing high quality.
Walmart rigorously controls the standards of ingredients and production processes, carefully selects the places of origin, strictly monitors quality standards, and adheres to traditional techniques. For example, the sweet and sour mandarin fish from Songhelou Restaurant must be made from fresh mandarin fish that are more than 18 months old and weigh about 1 kilogram. The dish is hand-prepared with elaborate procedures with eight horizontal cuts, eight vertical cuts and 128 ridges to reproduce the quality and taste of the restaurant dish.
In addition, Walmart has achieved end-to-end quality assurance with its completely temperature-controlled logistics and efficient O2O fulfillment service, giving it the ability to serve a banquet of dishes from across the country.

The sweet and sour mandarin fish from Songhelou Restaurant is hand-prepared with traditional techniques to ensure a dine-in experience
Creating value is what Walmart always keeps in mind when building its product portfolio. House Specialties of Famous Restaurants Nationwide achieves end-to-end cost optimization and efficiency improvement through a comprehensive review concerning costs on materials, preparation, packaging, and transportation. This approach does not sacrifice the quality of the ingredients, but enhances the effectiveness of Walmart and its partners through this process. This ensures long-term cost savings that are given back to customers.

Empowering restaurants to enter supermarkets, creating a new model of collaboration
In the House Specialties of Famous Restaurants Nationwide series, more than half of the restaurant brands are testing the waters in the supermarket retail space. Their choosing to debut in Walmart speaks to Walmart's trustworthy reputation and business competitiveness. Take the well-known northwest cuisine brand Xibei as an example; Xibei, prior to working with Walmart, had worried about the high costs and complexities of entering supermarkets. Walmart, with its simple and transparent collaboration model, respect for professionalism and empowerment of retail experience, reassured Xibei to take a leap of faith. Xibei's signature dishes of spicy lamb spine and Mongolian beef bones are now available for sale in Walmart channels.
Wangxiangyuan, which already had 55 physical restaurants nationwide, turned hot dishes into frozen dishes for dining at home for the first time. Participating in selection, packaging, marketing and transportation processes was a brand-new experience for them. Based on consumers' needs of having family dinners, Walmart has worked together with partners to select products. They carefully chose dishes that could be replicated close to the original dishes, such as Wangxiangyuan's Dongan Chicken. This is to ensure what customers want is what they get. Walmart also empowered Wangxiangyuan in areas such as packaging design, high-standard systematic production, and sharing of supplier resources, to help them join the supermarket supply game within only two months.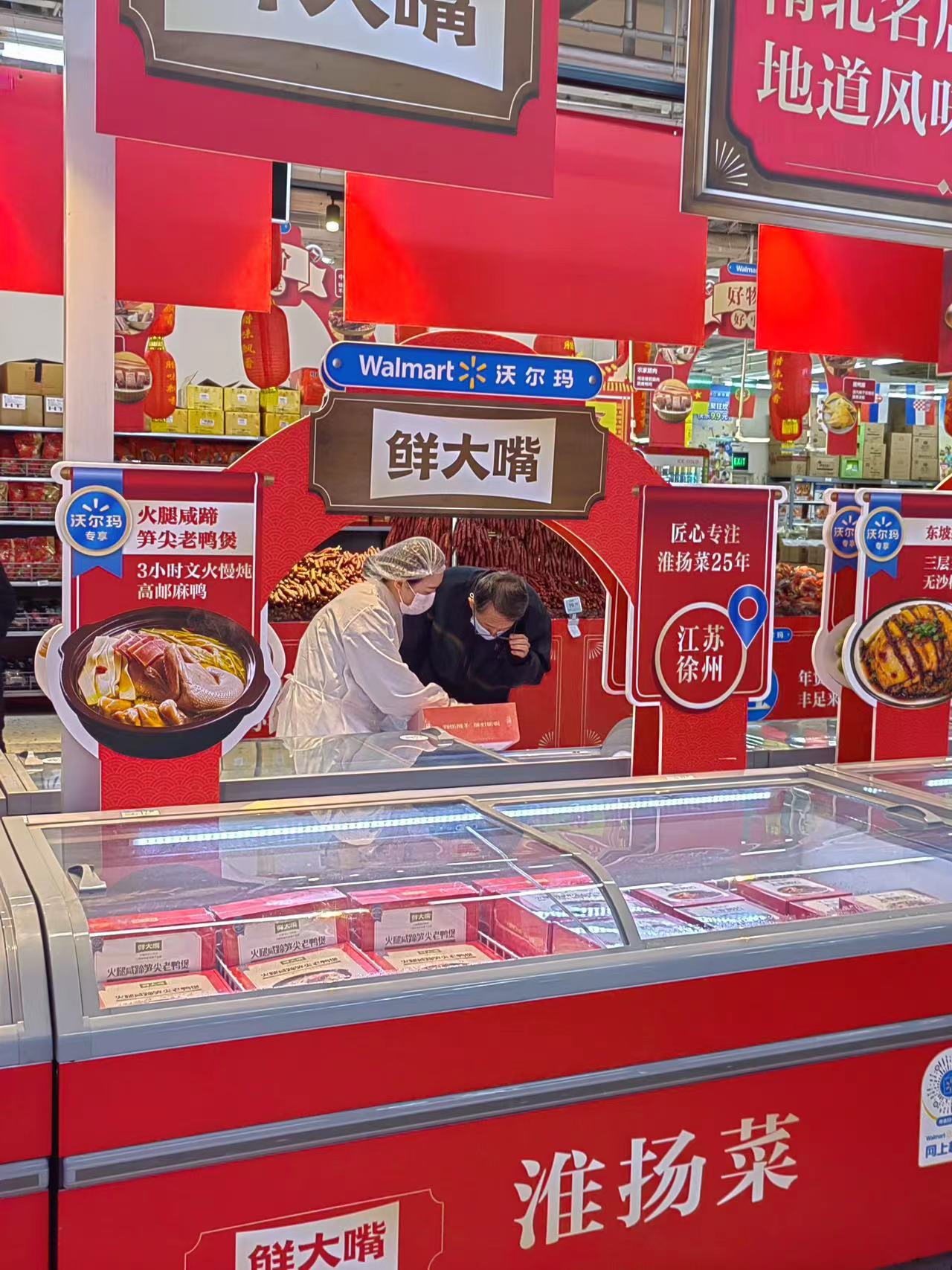 With Walmart's support, partners can quickly start a new line of business with less effort and investment
In addition to its transparent and simple collaboration model and significant retail experience, Walmart's efficient supply chain offers important and direct support for restaurant brands; it is undoubtedly a powerful promotion platform and timely help for regional restaurant brands to go nationwide. Xiaochuniang, located prominently in East China, was limited by its regional distribution capabilities to expand to the entire country. With the support of Walmart's supply chain, Xiaochuniang needed to focus on only the taste, quality and supply of its products, and required less effort and investment to expand into a larger market.
Christina Xiaojing Zhu, President and CEO of Walmart China, said, "A downward and slowing market equally offers great opportunities. This opportunity comes precisely from the huge changes in the market. In an economic downturn, consumers' behaviors and psychology change. Yet, it is such drastic disruption and change that generates opportunities for companies to innovate, get ahead and accelerate their growth."
Walmart's rich retail experience, product selection insights and strong supply chain have empowered more famous, yet regionally based, restaurants to enter thousands of households for dining at home. This has formed a win-win partnership for Walmart and restaurants, while continuing to create value for communities and customers.