Walmart China Wins Two Major Awards after Obtaining 'Great Place to Work' Certification
Walmart China is delighted to announce it has recently won two major human resource and workplace culture awards: 'Top Employer China 2023' from Top Employer Institute, and 'Best Workplaces™ in Greater China 2022' from Great Place to Work ® Institute.
Both awards are among the most influential and coveted annual awards in the international human resource management and workplace culture domains. The 'Top Employers' award comprehensively evaluates enterprises for best human resource practices in the six dimensions of People Strategy, Work Environment, Talent Acquisition, Learning and Development, Employee Well-Being, and Diversity and Inclusion. The 'Best Workplaces™ in Greater China 2022' award recognizes Walmart China for its unique corporate culture and outstanding workplace performance, and comes after the company obtained the 'Great Place to Work Certification' from Great Place to Work ® Institute.
Christina Xiaojing Zhu, President and CEO of Walmart China, said, "We are very pleased to see Walmart China winning both 'Best Workplaces™ in Greater China 2022' and 'Top Employer China 2023' awards after obtaining the 'Great Place to Work Certification' from Great Place to Work ® Institute. These awards fully recognize Walmart's talent strategy management and workplace environment. Associates are the most valued asset of Walmart. We firmly believe that 'our people make the difference'. We believe that we should take care of our associates, enhance their sense of identity, belonging and honor, and encourage them to fully unleash their potential and obtain diverse development opportunities. Only by making these efforts can we enable them to better serve our customers and members, and realize our corporate mission of 'saving people money so they can live better'."
Walmart China President and CEO Christina Xiaojing Zhu speaks to associates in store.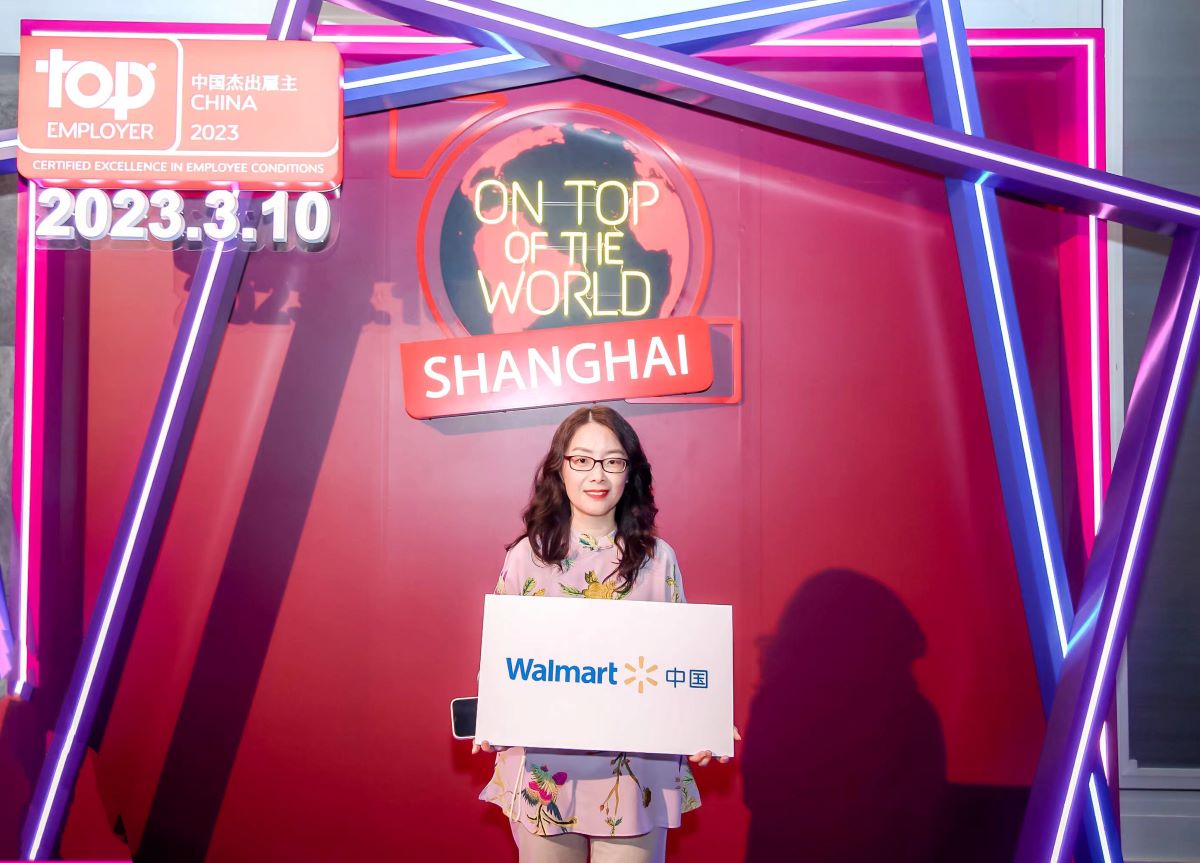 Walmart China Chief Human Resources Officer Maryann Xiaohong Xu attends Top Employers 2023 Leaders Forum.
Corporate Culture of Diversity and Inclusion
Walmart has formulated a company-wide diversity and inclusion strategy and integrated it with its operations and management. Walmart encourages managers to lead by example. That means cultivating and practicing inclusive leadership, and supporting every associate to obtain equal development opportunities regardless of their background – that includes gender and age.
In 2009, Walmart China established the 'Walmart China Women and Inclusion Leadership Committee' to drive the career development of female associates and empower diverse groups in the company and local communities. The committee provides guidance and assistance for women's career development through various forms of empowerment training, seminars, and leadership forums. Currently, 64% of our associates are women, and 50% of managers (at the Supervisor level and above) are women.
Walmart also pays attention to the employment and development of people with disabilities. In Walmart China, around 800 disabled associates serve in various positions, and more than 70% of them have worked with us for five years or more.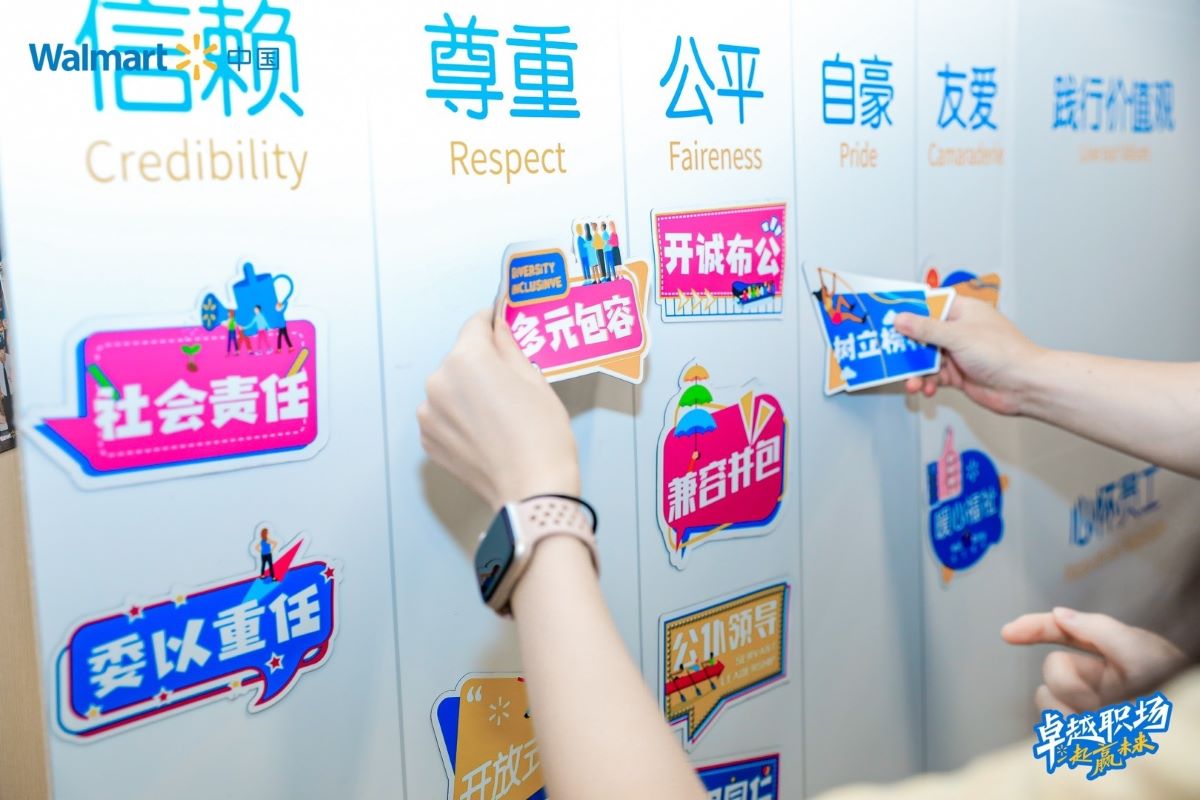 Walmart creates a fair, friendly and respectful workplace environment for its associates.
Driving Career Development
Upholding the belief that 'our people make the difference', Walmart has established clear career development paths and provides comprehensive training for all associates, helping them grow quickly and improve their leadership abilities. In China, Walmart attracts students and graduates through the 'Talent Elite Program', 'School-Enterprise Cooperation' and other projects, and continuously supplies talent for the retail industry.
Walmart's management trainee program for college and university graduates nurtures future retail leaders through two years of job rotation, cross-departmental work experience and systematic leadership training. Management trainees who pass the assessment process are promoted to deputy general managers in stores or to become key talent in core functions, and advance further through clear development paths.
Digitized Talent Management and Training
To provide associates with efficient, convenient and personalized services, Walmart has built a digital human resources management platform: it's a one-stop shop. This platform supports talent recruitment, training and development, and performance management. The platform also offers information for management decision-making through reporting/data dashboards that draw upon performance, competency, and development information.
Through Walmart's online learning app, associates can easily access more than 3,000 training courses according to their position, responsibilities and needs. Walmart also offers tailor-made learning tasks for associates, tracks their learning progress, and evaluates course quality to better support talent development programs.
Well-Being Benefits for Associates
Walmart China strives to develop a variety of employee benefits, and offers associates tangible items such as discounts and health and psychological support. These efforts seek to help them save money and live better, which will enhance their health and emotional well-being.
In 2022, faced with significant pandemic-related challenges, Walmart provided its stores in Covid-affected areas with high-standard personal protective equipment, and set up protective gear and energy supply stations. During the pandemic, Walmart delivered 2,700 food and daily necessities packages to associates and their families in Shanghai and Changchun, and promptly allocated 2,000 health kits to associates at the Shenzhen headquarters. The company also paid attention to associates' psychological needs by offering a 24/7 hotline as part of the employee assistance program.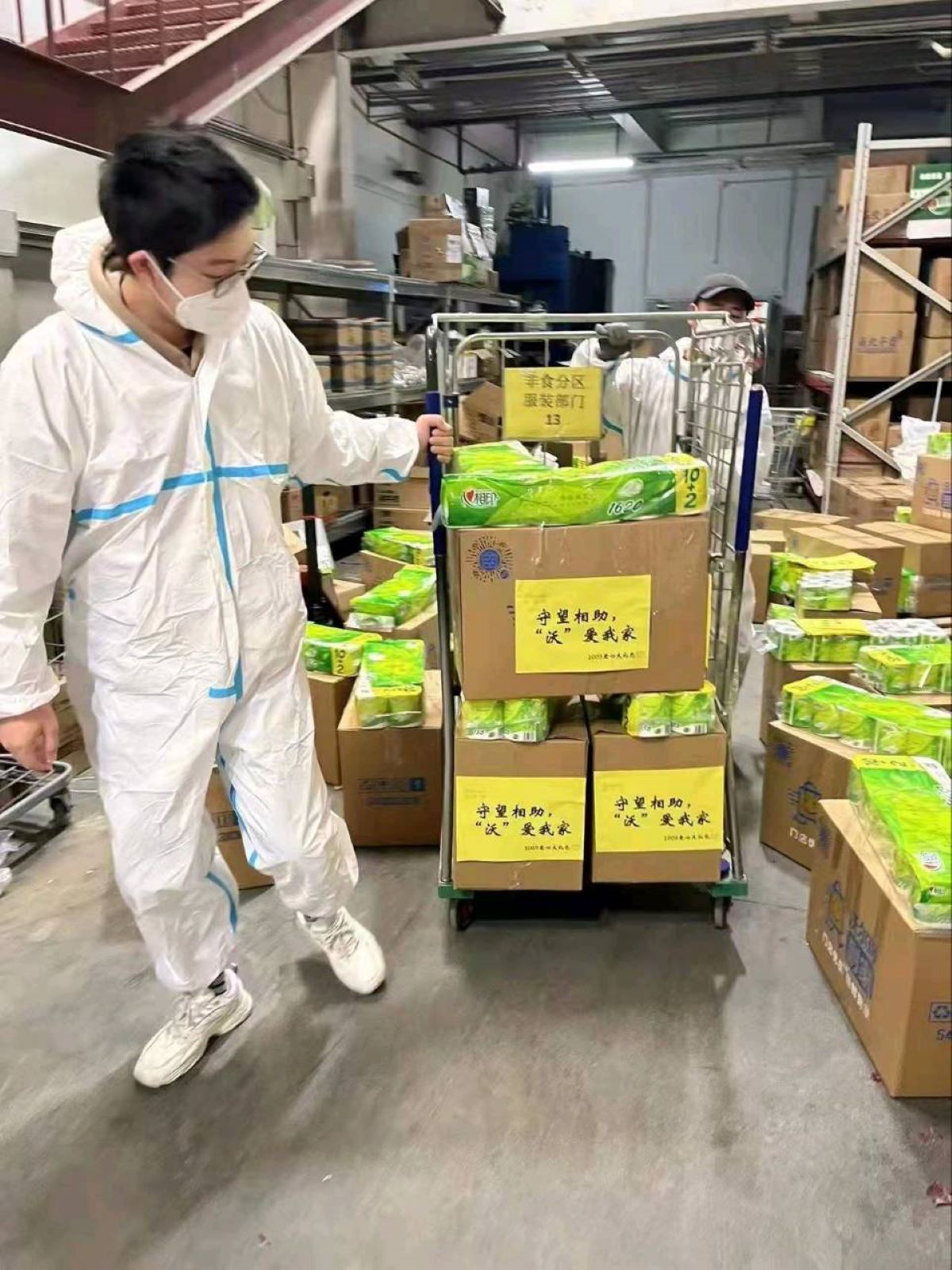 Walmart packed and delivered urgently needed grocery packages for associates and their families impacted by COVID-19.
Walmart is committed to corporate social responsibility, and has long carried out various projects to support rural women's development, children's nutrition and health, employment of mentally challenged youth, and surplus food donations. By boosting the sustainable development of local communities and the environment, Walmart has created more resilient business, cultural and natural environments, in the hope of helping people live better.
Maryann Xiaohong Xu, Senior Vice President and Chief Human Resources Officer of Walmart China, remarked, "Over the years, Walmart has proactively maintained its corporate culture of respect and trust, and established a talent development system with proven talent management concepts and innovative digital tools. Walmart has become a trustworthy employer brand, enabling it to attract and retain talent. In the future, we will continue to optimize our diverse talent development channels to build an excellent workplace, so every associate can work in their best state for personal fulfillment."